Australia Prospecting
Author: Jack's Gems/ Jack W
Lewis Ponds Creek, near Ophir. The first gold was found in Australia here in 1851, by Edward Hargraves. He panned 100 grams of gold from the creek and told everyone it was payable gold. Thousands instantly rushed to Ophir, creating Australia's first gold rush. Edward was rewarded ten thousand pounds and the job of a gold commissioner.
General Summary of Australia
Australia has had a rich history, filled with bush rangers, famous poets, famous explorers, sporting heroes and GOLD of course! The gold rushes in Australia created jobs and opportunities for families to make more money and have a chance of striking it rich! Gold is found in every state in Australia, providing people anywhere in Australia to go and have a chance to find the allusive gold nugget (or picker)! There are old abandoned mines all over Australia and are a good place to swing the detector. There has been a lot of rich areas in Australia and has produced many millions of dollars worth of gold over the years.
General Gold Summary in Australia
The gold in Australia is great! At one point (before Witwatersrand) Australia had produces 1/3 of the word's gold. Over 5.6 million kg (5600 tonnes) about 200,000,000 (200 million) ounces worth of gold has been found in Australia over the years. This amount is roughly worth $200,000,000,000 (2 hundred billion dollars)!
General Gem Summary in Australia
Diamond, ruby, sapphire, amethyst, citrine, tourmaline, garnet, emerald, quartz crystal, smokey quartz, opal, rhodonite, zircon, nephrite, topaz, labradorite, peridot, fluorite, malachite, azurite, jasper, agate, thunder eggs, calcite, chrysoprase, prehnite, iolite, tigers eye, tigers iron, turquoise and others are found all over Australia! Australia produces over 95% of the world's opal, 90% of the world's pink and red diamonds and heaps of other gems are commercially mined in Australia.
Metal Detecting Summary in Australia
You can find good size gold nuggets in every
goldfield with patience (or at least you used to be able to), but big gold nuggets are usually found in Victoria and Western Australia over 100 ounces (these days). Large nuggets are being found once in a while at VIC and WA, Friday's Joy, 4.1kg nugget and Hand of Faith, 875 ounce nugget both found in Victoria metal detecting! Below is a video showing a 109 ounce crystalline gold specimen found in Australia.
How and Where to Find Gold By State
Gold in Australia can be found in many ways, panning, sluicing, metal detector, trommel and some other ways, But NO DREDGING or removal of land with motorized/ mechanical equipment, only hand operated equipment in some states and no hi-banking in NSW and QLD! So only shovelling is allowed. The government made dredging illegal because they sucked up native animals and plants, made banks collapse and wrecked the environment. However, the prospecting laws in Australia are a bit strange… Some laws apply in some states but not in others, and some laws aren't even clear! Be sure to read up and know them before going prospecting!
Gold Locations By State:
NSW: Adelong, Bathurst, Batlow, Bell's Point, Braidwood, Carcoar, Cowra, Forbes, Gulgong, Gundagai, Grenfell, Hargraves, Hartley, Hill End, Junee, Kiandra, Lucknow, Moruya, Mudgee, Murrumbateman, Ophir, Orange, Parkes, Shoalhaven, Sofala, Stuart Town, Tuena, Tumbarumba, Tumut, Turon, Wyalong, Young (Lambing Flat)
VIC: Ararat, Ballarat, Beechworth, Bendigo, Castlemaine, Chiltern, Clunes, Creswick, Daylesford, Eldorado, Fosterville. Heathcote, Jamieson, Maldon, Maryborough, Omeo, Rutherglen, St Arnaud, Stawell, Tarnagulla, Walhalla, Woods Point, Yackandandah
SA: Montacute, Barrosa, Mount Pleasant, Echunga, Torrens River,
TAS: Apple Isle, Beaconsfield, Denison, Golconda, Lymington, Mangana, Moina, Mount Mary, Nook, River Forth, Specimen Hill, Tullochgorum
NT: Pine Creek, Paddy's Rockhole, Tanami Desert, Mount Bundy,
WA: Boddington, Bronzewing, Coolgardie, Coyote, Granny Smith, Indee, Kalgoorlie, Lake Carey, Lawlers Agnew, Mount Charlotte, Mount Magnet, Norseman, Paddington, Paulsens, Plutonic, Tarmoola, Telfer, Wallaby,  Wiluna
QLD:  Balcooma, Boolboonda, Calliope, Charters Towers, Clermont, Cloncurry, Croydon, Georgetown, Gympie, Langmorn, Mackay, Milton, Morinish, Mount Isa, Mount Morgan, Palmer, Palgrave, Pikedale, Ravenswood, Ridgelands, Rosewood, Talgai, Woolgar, Yabba
How and Where to Find Gems in Australia
There are many fossicking sites for finding gemstones in every state! You can sieve, pan, sluice, 'noodle' (look on top of tailing piles), spec or eyeball (use only your eyes), rake and heaps of other methods.
Popular Gold Prospecting Areas
Eldorado in Victoria is an extremely popular spot to find gold and gemstones these days. It can average 20 specks per pan and gemstones in the top sieve and the best I have gotten is about 100 specks per pan! Can get about a gram for a few hours panning, a few grams in a day high-banking. The gold is mostly small and flat pieces, but I know a guy who found a 2 gram nugget highbanking there.
 Large Aussie Gold Nuggets
Of the 10 largest gold nuggets found, 8 of them are Australian! Not all of them are on the top 10 list that are listed below.
Holtermann Nugget – Estimated +3000 Ounces  
Welcome Stranger – 2380 Ounces 
Welcome Nugget – 2195 Ounces 
Brenan Nugget – 1364 Ounces – No picture available
Golden Eagle Nugget – 1136 Ounces 
Hand of Faith – 875 Ounces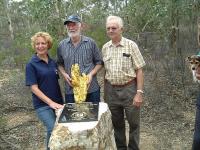 Perth Mint Nugget – 819 Ounces 
Latrobe Nugget – 715 Ounces 
Kerr's Hundredweight – 300 Ounces – No picture available
Cindy's Pride –  159 Ounces 
Friday's Joy – 144 Ounces